Easily create interactive marketing and sales collateral
View some examples how you can use LesLinq effectively in your marketing and sales strategy.
Grow your business, bring in new customers and keep them committed
There are many ways to use LesLinq effectively for sales and marketing. We list a few:
interactive presentations
interactive promo videos
Video Sales Letters (VSL)
animated flyers
how to guides
interactive product instructions
interactive video tutorials
FAQs and troubleshooting guides
interactive infographics
and more
Lead generation
Draw the attention of new customers with distinctive video sales letters, promovideos, interactive presentations or animated flyers.
After sales
Educate customers and partners with interactive engaging video tutorials and how-to guides that explain a product or service.
Customer loyalty
Stay top of mind with bite-sized tips or micro-courses that teach your customers how to use your products or services.
Customer support
Create interactive infographics, FAQs or troubleshooting guides that explain concepts in an easy-to-understand way. 
Convince yourself of the benefits of LesLinq and get started.
Transfer information in a short and powerful way
Work super fast with video, audio, images and text
Develop different routes to navigate through the content
Easily add interactivity and animation to elements, like zoom and animate
Make interactive video part of your microlearning and combine it with other interactive elements
Build on the web. Deliver it on smartphones, tablets, laptops, desktop or any device you wish for.
Powerful tool to make engaging content for marketing and sales
Successful marketers know how important and powerful it is to use microlearning and interactive video in your marketing mix. LesLinq allows you to create sparkling content that improves engagement, sales results AND customer enjoyment. 
DESIGN
Easily create
Thanks to the user-friendly user interface and the integrated drag-and-drop feature, you can quickly create great  microlearnings, onboardings or interactive videos.
Freedom in design
The open canvas gives you 100% freedom in design. You are not bound to templates.  You can completely determine the look and feel of your learning bites.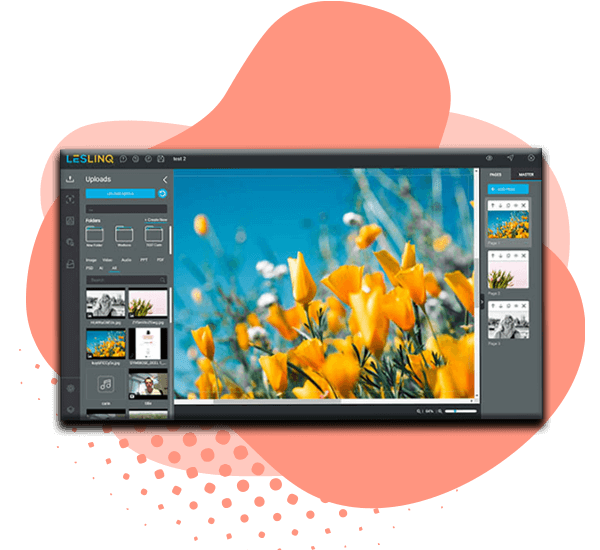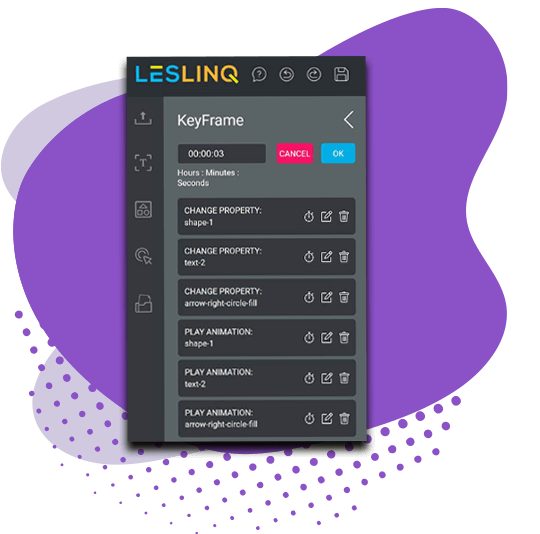 EDIT
Make interactive
Quickly animate content and make it interactive. 
Reusable content
All the interactive content you create can be reused thanks to the 'Interactive Sets' functionality.
Collaborate
Share your content with other people in your team and work together on a project.
DISTRIBUTE
No app needed
Share your eLearning bites via a weblink. No need to install an app for this. Bring training to your people, no matter where they are.
Integrate with any existing platform
LesLinq is open and platform-independent. Download HTML5 files or integrate LesLinq with other systems.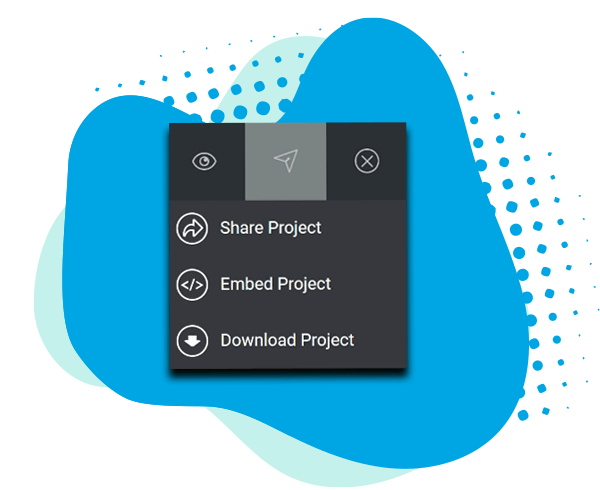 What sparkling content will you create in LesLinq?
Convince yourself of the benefits of LesLinq and get started now.