In recent weeks we have worked hard again to further expand LesLinq, the authoring tool for digital teaching material. Features we went live this week include:
PDF import function
From today it is also possible to import .PDF files into LesLinq (importing Powerpoint and Photoshop was already possible). The function is set up in such a way that each page of the PDF that you import as an image is read into a separate page in LesLinq. You can then add interactivity for each page. This feature is ideal for publishers who want to easily create an interactive PDF. Note: LesLinq exports by default in HTML5, so the interactive PDF can be used immediately in any system. That makes a huge difference in costs!
Action with delay
It is now also possible to add a delay to an action (action = the core functionality of LesLinq to add all your interaction). For example, you can set that when you click on an element, the action is only performed 2 seconds later. This is very useful for opening video files.
Improved Action Insights
LesLinq now better shows which element an action relates to. For example, if you set an image after a click on an element, you can now see more clearly to which image the action relates. This is a nice improvement, especially when you have set a lot of different actions.
Accounts changed
As announced earlier, we have converted all test accounts to a Create for free account. This means you can still log in and create projects. Do you want to share or download projects? Then you better switch to another account. View the options on our website. Questions? Call Chris Hof on 0618 134 501 or contact us by e-mail for a tailor-made offer.
Masterclass "How to create an interactive PDF in HTML5 in 10 minutes?"
We would like to show you live what the added value of good tooling is for creating interactive digital teaching material. That is why we are organizing the Masterclass "How to make an interactive PDF in HTML5 in 10 minutes" via Teams on Thursday 11 February from 10:30 AM to 11:00 AM. Participation is free. Interested? Sign up via our website or call Chris Hof on 0618 134501.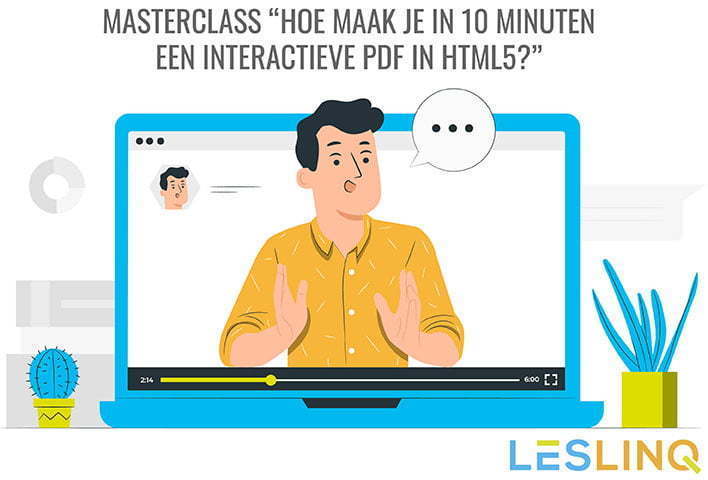 Directly to LesLinq
Hopefully you'll be as excited about these new features as we are. Do you want to get started right away? Click here to login to LesLinq.