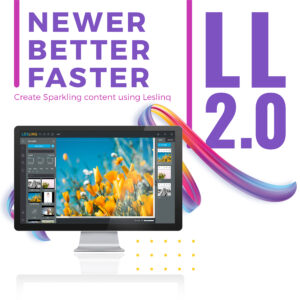 LesLinq, the online tool for creating and sharing interactive lessons, videos and animations, has launched a new version. LesLinq 2.0 includes new features and enhancements that make the creation of sparkling content better than ever before.
What's new?
In recent months we have taken the time to listen to wishes from the market. We have translated these wishes into the following new and improved functionality in LesLinq 2.0:
Improved user interface to make it even more intuitive
Optimized core – for best performance and speed
Improved animation and timeline engine
Improved way of sharing and collaborating on a project
New Uploads, Elements, Text and Project Resources Panel
And much more!
A first customer review
"We've been developing with LesLinq for some time for a number of our clients – such as ThiemeMeulenhoff – and were already very pleased with its capabilities. This new version is even more powerful and faster and makes developing e-learning content easier. We are very happy with it and so are our customers!" – Hein Montijn, Creative Content Developer at Eduardo Media.
A step forward in speed and ease of use
"With this new version we take another step forward in speed and ease of use of LesLinq," said Frank de Jong, Managing Director of GO! Grafi Offshore, the parent company of LesLinq. "It is now even easier for our users to create interactive content. Think of images with hotspots, interactive videos, micro learnings, etc. Our goal is to make the creation of interactive animated platform independent content easy and accessible for every learning professional."
About LesLinq
LesLinq is a powerful online tool to quickly create and share interactive content. Interactive content is indispensable in the development of good e-learnings. Several studies show that the use of interactive content has a positive effect on effectiveness and learning efficiency. LesLinq lets you add a sparkle to your content by transforming static content into an interactive experience. Ideal for digital learning materials, e-learning and onboarding.
Growing group of enthusiastic users
In the past year LesLinq has seen a significant growth in the number of users. Various organizations in the Benelux, such as ThiemeMeulenhoff, Publisher Averbode, Publisher Boom, Eduhint, Hogeschool Rotterdam and AB Midden Nederland now work with LesLinq.
About GO! Grafi Offshore
LesLinq was built by educational production studio GO! Grafi Offshore. As an 'EdTech' company GO! Grafi Offshore has been building diverse digital education solutions for educational publishers for over fifteen years. The services include the development of learning management systems, content management systems and Assets in HTML5. GO! Grafi Offshore also converts Flash files to HTML5. A few example of client projects are the Schatkist Method (Publisher Zwijsen) and games for Ambrasoft (Publisher Noordhoff).
Questions?
Please contact us via e-mail or call Chris Hof at +31 (0)682 077 845.
Discover the new features here.
Can't wait to meet the new LesLinq? Log in to LesLinq 2.0